Streaming platform users have now easy access to all the support offered by our company, the minute they enter the website.
They can easily access the manual, get online help, get support by telephone or send email messages from in one pop up window.
When entering the website a pop up window will be displayed with all the necessary contact information: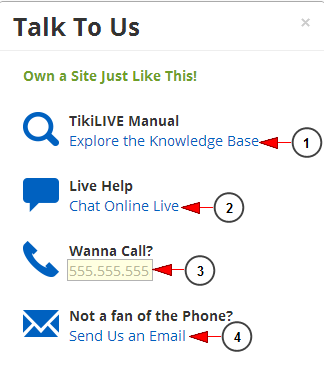 1. Click on Contact us link and you will be redirected to Contact  page where you need to fill in the contact form.
2. Click on the link to see the manual. The Streaming platform manual will open in a new window tab of your browser.
3. Click here to open a support ticket. You will be redirected to Support page if you are logged into your user account or to Login page if you are a guest on the website.
Note: only registered users can open a support ticket.
4. Click on Chat online link if you want to access the Streaming platform Help Desk channel and chat with a member of our team.
5. Here you can view the phone number if you want to speak directly to one of the members of our team.
The pop up window will be displayed while navigating on the website. If you want to close it, just click on the "X" mark.
Note: "Talk to Us" overlay window is not displayed when the website is accessed from mobile phones.