In Channels page you are able to view the full list of existing channels and you can use the filters to select only the online channels.
Note: this page displays only the available channels in the system and not Channel Groups. Channels Groups are displayed on Offers page.
In order to do that you will need to click on Channels link from the Explore menu:
This is how the Channels page looks like and below we will explain each field: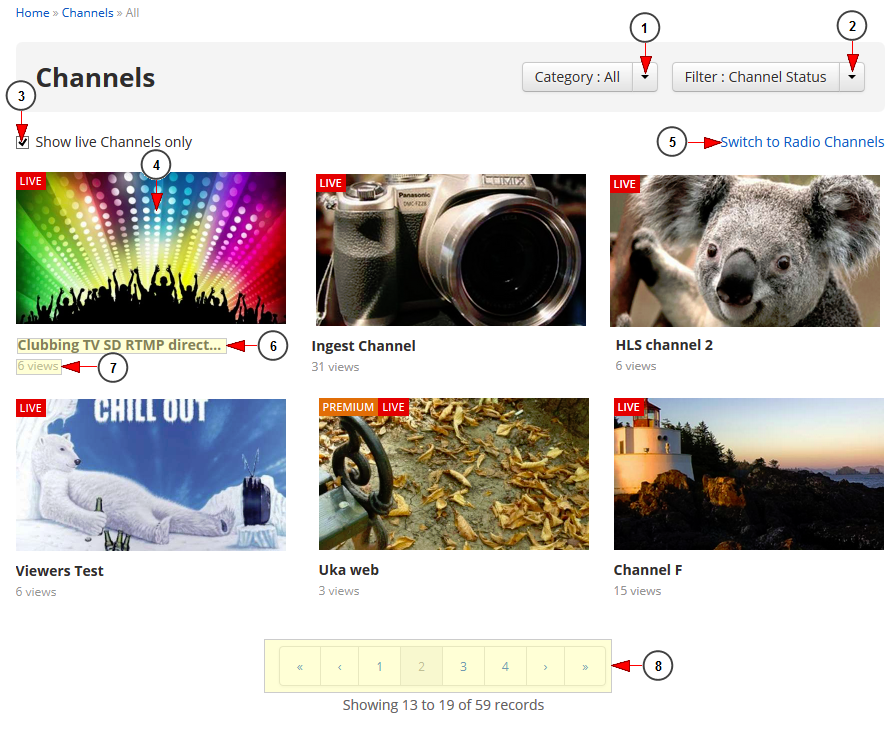 1. Select from the drop down list the category of channels you want to see displayed on the page.

2. From this drop-down you can filter the listing options: Newest to Oldest, Oldest to Newest, Most Viewed, Highest to Lowest Ratings, Lowest to Highest Ratings, Alphabetical a-z, Alphabetical z-a, Premium channels or Regular channels.
3. Check this box if you want to display only the channels that are LIVE on this moment.
4. Here you can see the thumbnail of the channel. When you click on it you are redirected to the Channel's page.
5. Click here to got to Radios page.
6. Here you can view the name of the channel.
7. Here you can see the number of views the channel has.
8. Here you can see the pagination index. You can click on the desired page number or on the arrows to go to the previous or the next page .
Note: If you click on the "<<" you will go to the first page and if you click  on the ">>" you will go to the last page – these arrows are displayed only when at least five pages are available.

Below you can see the label information of the channels: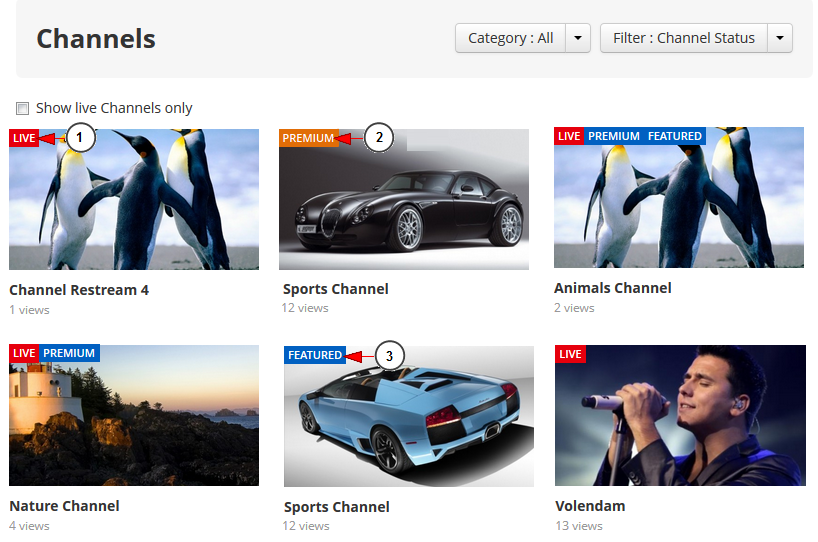 1. The Live label indicates that the channel is online.
2. The Premium label indicates that the channel is not free and users have to purchase a subscription to watch it. Premium channels can also be purchased from Offers page.
3. The Featured label indicates that the channel is Featured and it is displayed on Homepage, on Featured channels section. .
Note: A channel can have all three labels: LIVE, Featured and Premium as you can see in the picture above.